Building Products: From Manufacturer to Marketplace
FSA is a manufacturer's "rep" firm specializing in building envelope products in the New England states. FSA understands the value of experience and business relationships. Professional service linked with quality products will ultimately drive profitable sales.
Experienced
More than 30 years of building knowledge and relationships.
Convenient
Sales offices in CT and Boston for quick response throughout our territory.
Connected
Hundreds of contacts throughout all avenues of the industry.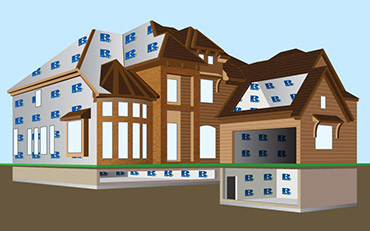 Managing Partner
John Wagner Jr. joined his father at Focused Sales Associates as Managing Partner in July of 2015.
After earning a full scholarship and playing football under Lou Holtz at the University of Notre Dame, John graduated in 1999 and pursued a career in another centuries-old New England industry, the seafood business.
During a 15-year career spent primarily with Foley Fish, John rapidly ascended the ranks from sales to sales management, purchasing, and production management. He traveled extensively throughout New England and beyond, developing and managing key accounts in his territories. Even after his promotions into purchasing and management, John maintained regular contact with key accounts to keep his finger on the pulse of sales.
Centrally located just south of Boston, John's attention to detail, exceptional organizational skills, and – above all else – his pride in servicing the customer will help make Focused Sales a key partner in your success.
Sales Associate
Tony joined Focused Sales Associates as Sales Representative in 2020.
After earning a Bachelor's Degree from N.E.I.T in Building Construction Technology, Tony worked for 23 years in the field as a Finish Carpenter, doing both Residential and Commercial construction. This led to him forming his own remodeling and woodworking firm, which he ran for 7 years. His level of hands-on experience in construction, coupled with his educational background, makes Tony uniquely qualified to be a trusted advisor to our customers, listening carefully and finding solutions to their challenges - not just selling. Tony's background has made him a quick study in grasping the pros and cons of the many building envelope products offered by Focused Sales Associates. Customer service is his specialty!
Sales Associate
Justin Joyce joined Focused Sales Associates as a Sales Representative in 2022.
Justin is a recent graduate of Boston College University with a Bachelor of Arts in Communications. He has quickly utilized his communication skills as a member of our Sales team, and has been key to enhancing our social media presence. Additionally, Justin took multiple Architectural classes at BC. His communication experience provides a key factor in our customer relations. In a short time, he has connected with many new and existing contracting, architectural, and distributing partners.
Justin is located in the Greater Boston area and is eager is make an impact in the market.
Office Manager
Linda Wagner joined the Focused Sales team in 2015, providing as needed/project based office support for the Focused Sales team. Over the last few years, as Office Manager, she is responsible for all office procedures including CRM management and web-based marketing. She utilizes her organizational, tech savvy, and communication skills to ensure smooth operations. Linda completed her undergraduate degree at the University of Connecticut, and has a master's degree from Central Connecticut State University.
Managing Partner
Focused Sales Associates founder John Wagner is an experienced and knowledgeable industry professional with an impeccable reputation of more than 30 years. He began his career at the manufacturer level, rising from a sales position to a national product manager at the company's headquarters. John moved on to distribution (Bradco and then ABC Supply after the acquisition), starting in sales and moving on to various leadership roles. He was based and worked primarily in the northeastern United States, where he was instrumental in the company's growth and its strong industry position. Success in the New England markets led to the position of National Commercial Sales Manager.
Given his past experiences, John has a passion for sales and being close to the end user. He believes that superior service will always win over the contractor who has so much riding on each project. John has served on the Northeast Roofing Contractors Association (NERCA) Board of Directors for many years, and has been a long term contributor to 'best practices' in the industry. He is more recently a member of SalesCorps and MANA trade organizations.