Since 1977, Portals Plus has been a leader in the roofing industry. Portals Plus manufactures value-added solutions, including ― drain systems, equipment rails, pipe portal systems, roof flashings and expansion joint covers ― for roof complications encountered by architects and building owners.
Portals Plus is committed to not only providing you the best possible products and services, but also to offering permanent solutions for all of your roofing needs.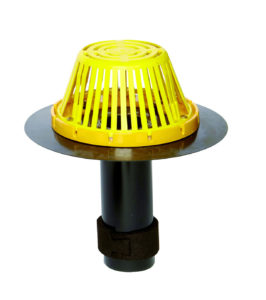 Portals Plus ReRoof Drain
The Portals Plus ReRoof Drain is designed for the easiest and most reliable installation for use in conjunction with an existing drain when reroofing.  The unit is based on a flat underside flange for flush roofing material installation.  A special precompressed modified asphalt impregnated expanding foam sealing tape automatically makes  a permanent elastic watertight seal to the existing drain, eliminating water backup.  The flange and outlet tube are available in stainless, aluminum, PVC, or high temperature ABS. ReRoof Drains are available to fit 2", 3", 4", 5", and 6" drains.
The drain is completely installed on the roof top with NO special tools and all hardware is stainless steel.The unit is available with either plastic or cast aluminum dome strainer and the outlet tube gives minimum downsizing to the existing drain.  The Portals Plus ReRoof Drain makes a perfect roofing termination pointand offers an excellent connection to the plumbing below.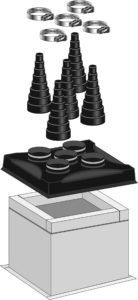 Pipe Portal System
A versatile, leak proof and weathertight solution to routing pipes through the roof. The Pipe Portal System is designed to allow for both vertical and horizontal pipe movement, yet provide maintenance free permanent installation, which accommodates pipe sizes of .375" up to 12". The curb cover is molded from ABS plastic (Acrylonitrile Butadiene Styrene) with a laminated acrylic coating, which gives high resistance to both ozone and ultraviolet sun rays, as well as serviceable temperature range of -40F to + 160F. The molded sealing rings on the collared opening of the cover mated with the grooves in the rubber cap assures a "Weather tite Pressure Seal" and mechanical lock.