Since 1902, Milcor has been providing the building products industry with quality items. Milcor offers a wide array of access products, including, interior access doors, roof access hatches, floor & sidewalk doors, and heat & smoke vents. The ability to produce custom product to accommodate building owners and architects, allows Milcor to be a leader in the industry.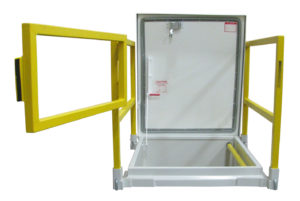 Milcor roof access hatches open easily to 90 degrees. Operation is assisted by enclosed torsion bar or torsion coil spring operators. Automatic hold-open arms keep doors securely open.
The clear hatch opening is virtually unobstructed, with only a narrow hold-open arm at one corner and the torsion bar or spring mounted out of the way in the cover or frame.
An extruded EPDM gasket is adhered to the units, providing a barrier to weather penetration and drafts. Latching devices with inside and outside handles hold hatches tightly closed.